Description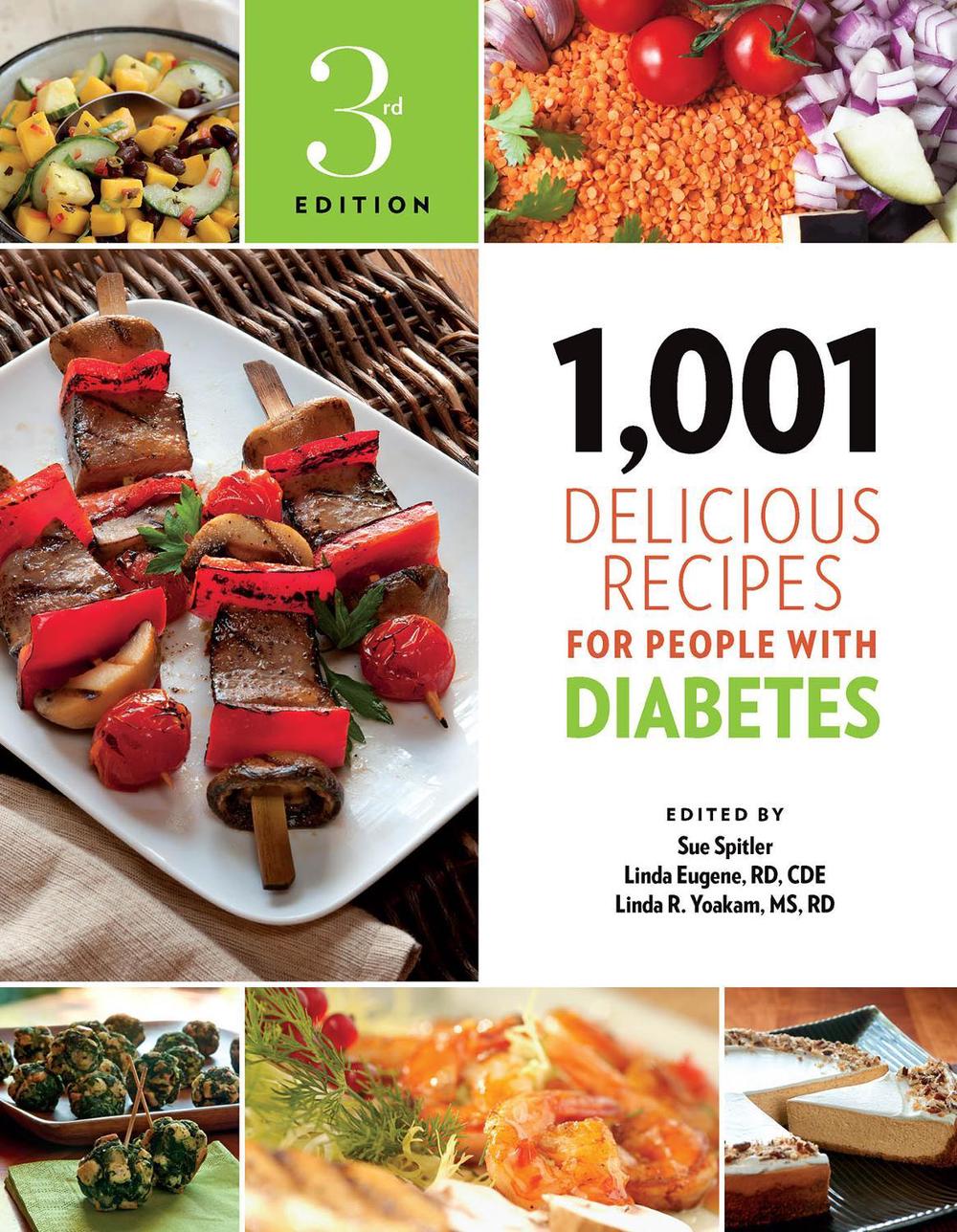 1,001 Delicious Recipes for People with Diabetes
Estimated delivery 3-12 business days
FormatPaperback
ConditionBrand New
Description These quick and easy-to-prepare recipes use readily available ingredients with a focus on fresh, seasonal foods. Whether you count carbs or use the exchange system to meet your dietary goals, you can determine these values at a glance using the nutritional data that accompanies each recipe.
Publisher Description
A redesigned and reformatted version of a perennial favorite, this third edition of 1,001 Delicious Recipes for People with Diabetes is a winning combination of the most recent diabetes recommendations and contemporary culinary tastes. It is the most complete collection of diabetes-friendly recipes available today and the one book all those with diabetes should have in their kitchen library. 1,001 Delicious Recipes for People with Diabetes covers all the basics of a diabetic diet and lifestyle, including exercise, carbohydrate counting, and food-exchange lists. This huge cookbook contains 16 chapters of delicious recipes that are suitable for a diabetic diet, all of which are accompanied by a nutritional analysis and the most current diabetes exchange information. The quick and easy-to-prepare recipes are written in a concise format and use readily available ingredients with a focus on fresh, seasonal foods. They require no special cooking skills or equipment, and represent an eclectic range of styles and culinary traditions. If you are a person with diabetes, you know you have to be careful about what you eat.
But healthful food doesn't have to be dull, and reducing fat and calories doesn't mean giving up flavor. Why feel deprived when you could start the day with Blueberry Pancakes with Blueberry Maple Syrup? Company coming? Everyone will enjoy a savory Chutney Cheese Spread or Queso Fundito followed by Pork Tenderloin with Gremolata. For an easy weeknight dinner, try Lasagna Casserole or Pizza with Carmelized Onions and Smoked Turkey. Want to indulge a sweet tooth? Lemon Cloud Pie or White Chocolate Cheesecake will satisfy. This award-winning 1,001 cookbook series has earned its reputation for excellence by carefully curating and testing the recipes, as well as by featuring complete nutritional data, such as calories, fat, cholesterol, carbohydrates, and diabetic exchanges. This latest offering in the bestselling series has been completely refreshed and updated for maximum value and ease of use in the twenty-first century. In one convenient, all-encompassing volume, 1,001 Delicious Recipes for People with Diabetes presents the healthiest, simplest, and most delicious range of family meals.
Details
ISBN 1572841702
ISBN-13 9781572841703
Title 1,001 Delicious Recipes for People with Diabetes
Format Paperback
Year 2015
Pages 700
Edition 3rd
Publisher Surrey Books,U.S.
Dimensions7.8 in. x 10 in. x 1.4 in.
About Us
Grand Eagle Retail is the ideal place for all your shopping needs! With fast shipping, low prices, friendly service and over 1,000,000 in stock items – you're bound to find what you want, at a price you'll love!
Shipping & Delivery Times
Shipping is FREE to any address in USA.
Please view eBay estimated delivery times at the top of the listing. Deliveries are made by either USPS or Courier. We are unable to deliver faster than stated.
International deliveries will take 1-6 weeks.
NOTE: We are unable to offer combined shipping for multiple items purchased. This is because our items are shipped from different locations.
Returns
If you wish to return an item, please consult our Returns Policy as below:
Please contact Customer Services and request "Return Authorisation" before you send your item back to us. Unauthorised returns will not be accepted.
Returns must be postmarked within 4 business days of authorisation and must be in resellable condition.
Returns are shipped at the customer's risk. We cannot take responsibility for items which are lost or damaged in transit.
For purchases where a shipping charge was paid, there will be no refund of the original shipping charge.
Additional Questions
If you have any questions please feel free to Contact Us.